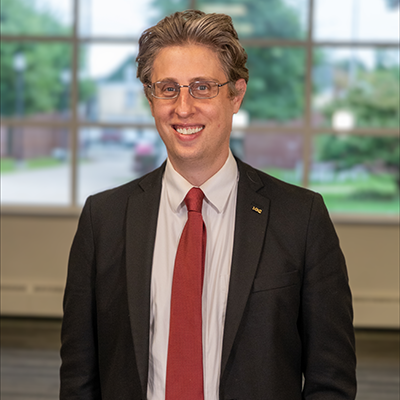 Head of School
Master of Arts in Liberal Studies, Dartmouth College
Bachelor of Arts in History, Kenyon University
Mr. Kleinheider was appointed to the Head of School position in May 2019. He comes to MMI from Thomas Jefferson Independent Day School in Joplin, Missouri, where he served five years as the Academic Dean overseeing the liberal arts, college preparatory curriculum program in grades PK-12. An accomplished administrator and teacher with nearly 20 years of professional experience in independent schools, he is a native of New Jersey, has been honored with the Distinguished Educator Award three times in Joplin, and was the Golden Apple Winner for Outstanding Upper School Teacher in 2018.
Mr. Kleinheider attended three independent schools as a student where he developed a lifelong love of learning. He began his independent school career at Culver Military Academy in Culver, Indiana. There, he was a history teaching fellow, coached boys' and girls' tennis, and served in dormitory supervision. After completing his teaching fellow program, Kleinheider served as a history instructor, newspaper advisor, and tennis coach at University School in Hunting Valley, Ohio, for seven years. Upon arrival at Thomas Jefferson, he taught history to both middle and upper school students and moved into administration as Dean of Boys for two years before becoming Academic Dean. He remained a classroom teacher while serving in these administrative roles.
While at Thomas Jefferson, he led the School's self-study and accreditation for the Independent School Association of Central States (ISACS) and has served on several accreditation visiting teams, most recently serving as a visiting team vice-chair. Additionally, he has served as a reader for the AP Unite States History Exam for five years and was a Fellow in the National Association of Independent Schools (NAIS) Aspiring Heads Program.
He is a devoted cinephile who combines his passion for travel with a goal to visit a movie theater in all 50 states. An avid runner, he starts his mornings with a three-mile run. At home, Mr. Kleinheider spends his weekends making pizza dough and donuts with his family.
Mr. Kleinheider will reside on MMI's campus in the Head of School home with his wife Michelle and two young sons, Ronan and Eliot.