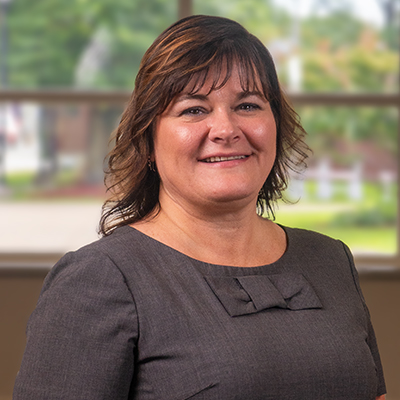 Director of Enrollment Management & Marketing / Dean of Students
Certified Admissions and Enrollment Professional, Association of Independent School Admission Professionals
Bachelor of Arts in Journalism/Mass Communications, Lock Haven University of Pennsylvania
Master of Arts in Organizational Management, University of Phoenix-Phoenix Campus
Marcianna (Marci) Hosier was appointed as the Director of Admissions & Marketing at MMI in February 2015. In her current role, Mrs. Hosier is responsible for all aspects of enrollment management from marketing and admissions to financial aid. She also oversees the summer camp program and the MMI student ambassador program. In 2020, Mrs. Hosier joined the faculty as the instructor for Strategic Communication. In 2023, Hosier assumed the responsibility of Dean of Students focusing on student life.
Prior to joining the MMI family, Mrs. Hosier served six years as the Director of Marketing for Bryant & Stratton College a multi-campus, private college with locations in New York, Ohio, Wisconsin and Virginia. In this position, Hosier served as a member of the college's enrollment management team, the product development committee, and as a point person for compliance. Her responsibilities included working with the college's campuses, vendors, and senior management team to develop all marketing materials, media plans, public relations materials, social media, and communications plans. Before joining Bryant & Stratton, Mrs. Hosier was the Director of Marketing and Advertising at Pioneer Pacific College in Portland, Oregon, where she served on the college's senior management team. She has also served as the Executive Director of a non-profit media center in Beaverton, Oregon; the General Manager of the in-house advertising division for a large education corporation in Tempe, Arizona; as a Videographer/Editor for a small production company in Pittston, Pennsylvania; and as a Production Assistant/Control Room Operator for WOLF-TV and WVIA-TV.
Mrs. Hosier is a native of Northeastern Pennsylvania and relocated back to the area in 2009. She has served on a number of boards of directors including Beaverton Sister City Foundation, Friends of Arts Magnet Education, the Tualatin Valley Arts Culture and Humanities Council, and the Washington County Convention & Visitor Bureau-Executive Committee. She is a member of the Women's Networking Committee, and is the Chair of the Women's Empowerment Grant Committee of the Hazleton Chamber of Commerce. Additionally, she acts as the School's main participant in the Association of Independent School Admissions Professionals (AISAP). She has served as an expert resource for AISAP Master Classes. She is also the school's main contact for the Enrollment Management Association. Hosier has been active in PAIS affinity groups for marketing and admission serving as the facilitator for the marketing group during a PAIS biennial conference.
Mrs. Hosier resides in West Pittston with her husband, Barry, and two children, Morgan '21 and Aiden '25.