MMI Preparatory School honored its student athletes at a virtual Athletic Awards ceremony.
Seniors Robert Rinaldi and Dominique Kline received the District 2 Pennsylvania Interscholastic Athletic Association (PIAA) Scholar-Athlete Awards.
MMI recognized numerous athletes with MVP, Most Improved and Coach's Award honors and varsity letters.
Thomas Mayernik was named Golf team MVP, and Noah Long and Peter Walko received the Coach's Award. Mayernik, Long, Walko, Kade Lutz, and Lex Lispi received varsity letters.
Annabel Dobash and Eric "Woobie" Kupsky earned Cross Country team MVP honors. Rachael Betz and Paul Neyhart were the Most Improved runners, and Morgan Hosier and Connor Spencer received the Coach's Award. Dobash, Kupsky, Hosier, Spencer, Paul Neyhart, Alex Neyhart, Khristian Banks, Erica Kline, Kate Malay, Caden Pease, and Kasia Svendson received varsity letters.
Zander Spear was named Boys' Tennis MVP, Christian Badamo was selected as Most Improved player, and Ryan McNelis received the Coach's Award. Spear, Badamo, McNelis, Louis DeAngelo, Thomas Mayernik, Ethan Stine, and Peter Walko received varsity letters.
Marcus Danchision, Kevin McNulty, and Colin Williams all were awarded MVP honors for the Varsity Baseball team. The trio also received varsity letters along with Andrew Burns, David Castro, Chance Eyerly, James Kelly, Jacob Magula, Ty McDermott, Corrigan Nolasco, Robert Rinaldi, Cole Rinehimer, Connor Spencer, and Carson Valkusky.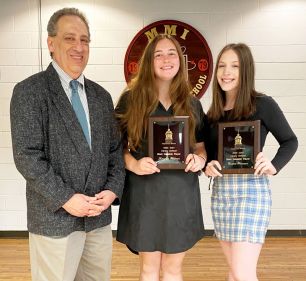 Kaylee Witner and Grace Warner were named Varsity Softball MVPs and Alexis Dalesandro received the Coach's Award. All three earned varsity letters along with players Irene Altmiller, Gina Galada, McKenna Gallagher, Anna Hoxha, Sydney Kohl, Ashley Loss, Amelia Minzola, Jacqueline Snyder, Kennedy Tavaris, and Lucy van den Berg, and managers Olivia Bartholomew, Lindsay Horvat, and Katelyn Overa.
Emily Ryan and Eric "Woobie" Kupsky were honored for representing MMI in girls' and boys' swimming.